Feeling frustrated that so many critical strategic changes fail – on average 70%?  Know your organization needs constant reinvention but not sure how to go about it?  Looking for fresh new ideas to expand your leadership skill set and leverage new sources of competitive advantage?  Feel like celebrating spring and networking with a great group of like-minded professionals over wine and cheese?

Ellen Auster and Lisa Hillenbrand will be sharing a preview of their new book  Stragility: Excelling at Strategic Changes.  Forbes Magazine called the book "a vital and practical guide to taking action, adapting systems and empowering people."  Unilever's CEO, Paul Polman, called it "an immensely practical resource to turn change strategies into action."

Register below to learn more about their Stragility approach and creating thriving, high energy organizations that win at strategic change every time.
Feel free to invite your friends, colleagues and teams and spread the word!
Hope to see you there!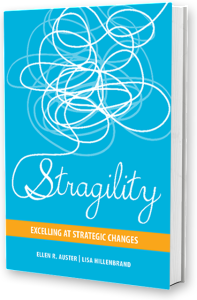 http://www.rotman.utoronto.ca/ProfessionalDevelopment/Events/UpcomingEvents/20160608Auster-Hillenbrand.aspx
Comments are closed.